WELCOME TO ROUND 2
TAMPA- Boy, it was a hot one Saturday afternoon. The race to clinch the Atlantic Division bounced back and forth between the Boston Bruins and Tampa Bay Lightning. Throughout the regular season Tampa came out and dominated, leaving very little room for any other team to overtake first place. But when it comes to the playoffs, all bets are off and regular season stats go out the window. For the Boston Bruins, they have managed to once again get into the minds of the Lightning, as they clobbered their way to a 6-2 victory.
A GOOD START
The Bruins quickly came out strong with Rick Nash scoring on a power play in the first period. Patrice Bergeron scored another goal in the second. Forward Brad Marchand looked to score what would be their third goal, however it was waved off as a cross checking penalty on David Pastrnak was called prior. This is where things got a bit wild.
BOLTS STRIKE BACK WITH A BIT OF CONTROVERSY
As the Lightning were looking to gain momentum, Tuukka Rask had some wardrobe malfunction as a skate blade came off, limiting his movement in net. As he tried to get the attention of the refs, Tampa took advantage and Mikhail Sergachev scored cutting the goal deficit by one. To say he was frustrated was putting in mildly, but the referees made the right call. The NHL public relations quickly explained the rule #9.6:
"There is no goal for referees to stop play for a broken piece of equipment, regardless of whether the equipment belongs to a goaltender or a skater. the lone exception is when referees may stop play after a goaltender has lost his helmet."
Tuukka has a wardrobe malfunction & the Bolts capitalize 🚨 pic.twitter.com/v88IUwgyP3

— NHL on NBC (@NHLonNBCSports) April 28, 2018
HUSTLE AND FLOW
The Marchand-Bergeron and Pastrnak line has produced a total of 12 goals and 41 points in their last five games. Rick Nash got the Bruins on board from an assist with David Pastrnak during a power play. Forty-two seconds into the second, once again, Pastrnak found Patrice Bergeron and got the Bruins on board, making the score 2-0. However, Tampa answered back as Dan Girardi got the Lightning on board two minutes into the second. A waved-off goal by Marchand and with Pastrnak in the penalty box, the Bruins were able to kill a power play off. Rick Nash quickly scored his second goal of the game, giving the Bruins a 3-1 lead.
WHAT'S UP WITH THE REFS?
After an interesting call on Jake DeBrusk for "interference" and the Rask blade controversy in the second, Tampa were looking to close that gap. But Boston kept control of the game.  The Bruins shook off the remnants of wild second period and with goals from Marchand, Bergeron, and an empty netter by DeBrusk. Boston defeated Tampa 6-2.
lick at this i mean look at this goal from Brad Marchand!

Stream the #StanleyCup Playoffs here: https://t.co/ypEzC9zVuL pic.twitter.com/W96AkobGV9

— NHL on NBC (@NHLonNBCSports) April 28, 2018
SHINING IN NET
After looking shaky in net in the last few games of the series, many will be looking to Tuukka Rask to have more confidence.  There have been many narratives about Rask getting the start in net against Tampa. In Game 1 of this tough series, it's easy to see that Tuukka was in the zone. He allowed only two goals throughout the game and stopped 34 shots on net. Pretty good numbers if you consider he was screened by his own defensemen and lost a blade on his left skate.
"These freaking skates nowadays, the blades come off. I was yelling at the ref for 10 seconds. He didn't  hear me. It sucks. I'm glad we won."
FINAL THOUGHTS
Tuukka Rask and Rick Nash were the stars of this game. Vasilevsky was shaky in net, but much like with Toronto, Boston will have to take it one game at a time. Rask needs to continue to shine in net. Offensively, the Bruins need to drive to the net full force and bring back that momentum when they return to Boston. The last time these two teams met was in 2011, and that series went to seven games (with Nathan Horton scoring the clinching goal at the Garden). And we all know how that year ended. This will be a tough series and will only get tougher as we head into June. Will the 2018 Boston Bruins see a repeat of what happened in 2011?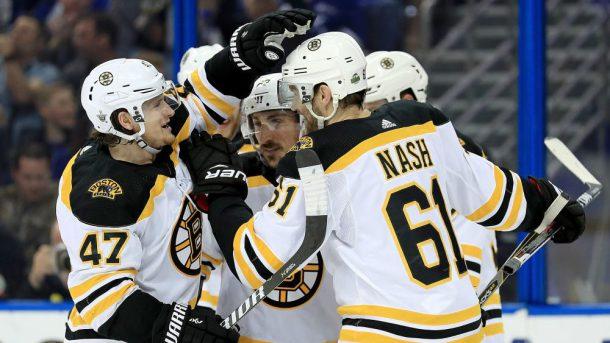 Let the best team win.
Follow Liz Rizzo on Twitter @pastagrl88