Throughout their rich history, the Bruins made some great additions through free agency. Below, we present our picks for the Bruins' top 12 best free agents signings.
James Gaitlin (@JamieGatlin1217)'s Picks:
Torey Krug
Boston gave Krug a contract after he went undrafted in 2012. Since then, the Michigan State product has improved his defensive game and excelled offensively. Krug has scored 52 goals and 183 assists for Boston. He has been a weapon on the power play as 20 of his 52 goals have come on the man advantage. He helped the Bruins advance to the Stanley Cup finals in the 2012- 2013 season. The Bruins have control of Krug for the next two seasons after extending him in June 2016. Krug has become into an impactful player that many people did not see coming and has been key to the Bruins' success.
Zdeno Chara
During the 2006 offseason the Bruins signed Chara to a five-year deal worth $7.5 million annually, which at the time was the largest for a defenseman. Since signing that deal Chara, has had an historic career in Boston. He won the Norris Trophy in 2009 and has had multiple top five finishes since. Chara has recorded more than fifty points in a season three times in his twelve year tenure in Boston. His importance to the franchise is not just reflected in his stats. As Chara becomes older, he has served as a mentor for the younger Bruins. He is a key mentor for the next wave of Bruins defensemen, including Brandon Carlo and Charlie McAvoy. Signing Chara may be the best free agent signing in franchise history as his career in Boston has been that will be hard to replicate.
Blake Wheeler
Wheeler spent the first three seasons of his career with the Bruins before being traded for Rich Peverely. He was drafted in the first round by the Coyotes, but the Bruins were able to sign him away. Wheeler recorded 45 points in his first year in Boston, including three game-winning goals. He followed that up with a 38 point season that included two game winning goals. Wheeler was a solid player in Boston and brought the Bruins Peverley, who contributed to their championship run in 2011.
Glen Murray
Murray spent the first three years of his career with the Bruins before leaving for Pittsburgh after the 1994-1995 season. Murray returned to the Bruins via trade in the 2001-2002 season. After scoring 35 goals in 73 games, the Bruins re-signed their former first round pick. Murray followed up his 35 goal season with a career year as he had 44 goals along with 48 assists. He led the league with 32 even strength goals and had five game winners. After re-signing with the Bruins he had the two best seasons of his career making the contract one the Bruins would not regret.
Anton Khudobin
Prior to the 2016-2017 the Bruins signed free agent Anton Khudobin to a two-year deal worth $1.2 million. Khudobin struggled mightily in the first half of the 2016-2017 season before finishing strong. This past season Khudobin had the best season of his career. He was the strong backup the Bruins had been missing and pushed Rask to be his best. Khudobin had his lowest goals against average 2013- 2014 season and recorded his first shutout in two years. Khudobin breakout season made what the Bruins paid worthwhile and re-signing him could be key.
Bruce Crowder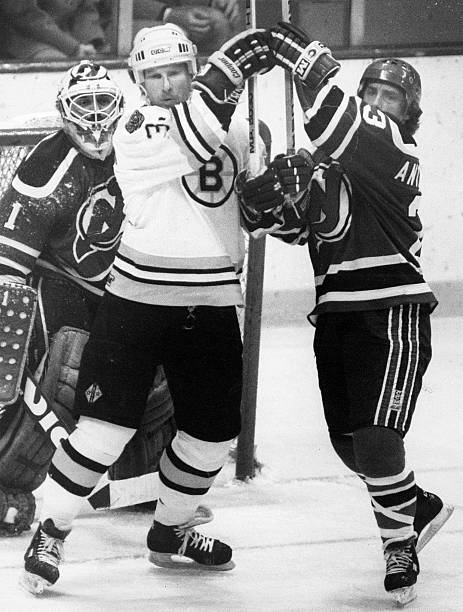 Bruce Crowder began his career with the Flyers after they drafted him 153rd overall in the 1977 NHL draft. The Bruins signed Crowder 1981 and remained in Boston through 1984. In three years with the Bruins he scored 43 goals and had 44 assists. Crowder was not an extremely dangerous offensive player, but he had three solid seasons in Boston
Liz Rizzo (@pastagrl88)'s Picks
Gerry Cheevers
Wild, feisty, bombastic and highly competitive, this legendary goaltender is on our list as one the best free agents signings in Bruins history.  From St. Catherine, Ontario, the Toronto Maple leafs owned his rights during the 1960s. He was picked up by Boston in 1965, played in the minors for a while before playing in the NHL in 1967. A knee injury led to his demotion to Oklahoma City where he met Harry Sinden.  
In the following year, Sinden was promoted as head coach of the Boston Bruins. When their starting goaltender suffered an injury, Cheevers got the call. That summer, Boston had to make a decision in which goaltenders they would protect in the draft; they kept Cheevers and Eddie Johnston. Cheevers played 44 games with a 2.83 average to Johnston's 20 with a 2.87 save average. The Bruins won the Stanley Cup in the 1969-1070 series and in 1972. Cheevers went to the WHA before being signed again as a free agent with the Bruins. In 1980, he retired in Boston.  After 13 seasons in the NHL, Cheevers was inducted into the Hall of Fame. Harry Sinden said it best about Cheevers:
"Certainly we had Bobby Orr and Phil Esposito, but I'm sure we couldn't have won the Cups without Gerry Cheevers"
Johnny Boychuk
A top four level defensemen, Boychuk came to Boston via Colorado and proved to be an important member of the Bruins during their 2010-2011 Stanley Cup win. Boychuk played both defense and offense. In his six years with the Bruins he played 317 games, with 19 goals, 56 assists for 75 points, playing an average of 20 minutes on ice. In the shortened 2012-2013 season, Boychuk played consistently in the defensive zone.  The Bruins traded Boychuk to the New York Islanders for two picks, one of which would be Brandon Carlo.
Mark Recchi
In 2009, free agent Recchi signed a deal with the Boston Bruins and was part of the 2011 Stanley Cup team. He played 25 games that year with five goals. In his three years with the Bruins he played 180 games, with 42 goals and 65 assists.  His last year in the NHL he played as a defensive forward with more than half his shift time spent in the defensive zone. He made three Stanley Cup playoff appearances with the last being in Boston. At age 43, he became the oldest player to ever score in the Stanley Cup finals. In June 2017, Recchi was elected into the Hockey Hall of Fame.
Dominic Moore
A tough fourth liner center, Moore turned out to be a pretty good signing by current GM Don Sweeney. As a free agent, he signed a one year deal with the Bruins worth $900,000. Moore played a strong game: in 82 games he netted 11 goals with 14 assists. He was a clutch face-off player and consistently killed penalties.  For what the Bruins paid for they received a lot in return.
Riley Nash
Along with Anton Khudobin, Nash was signed as a free agent to a two-year, $1.8 million contract in 2016. Nash made good on his contract and came in when the Bruins needed him. With Patrice Bergeron out this past season with an injury, Nash filled that spot nicely. In the Toronto Playoff series, Nash contributed to the first two goals in Game four.  He finished this season with 41 points, played in 76 games with 15 goals and 26 assists. Nash proved to be little risk for the Bruins, but with how he's been performing, it's proving to be a good investment.
Marc Savard
In the 2004-2005 NHL lockout, Savard played in Swiss league prior to signing as a free agent with Bruins in a four-year, $20 million dollar deal.  He led the Bruins in scoring tallying up 96 points. He had 74 assists (third in the league) behind Joe Thornton and Sidney Crosby. After 11 seasons in the NHL, he made his Stanley Cup Playoff debut. He scored his first NHL Playoff goal in overtime in Game 3 against Montreal.
In the 2008-2009 season, he led the Bruins in scoring with 88 points in 82 games.  Unfortunately, Savard career took a bad turn when he suffered multiple concussions. Diagnosed with post concussion syndrome, Savard was not able to participate in the Vancouver series in the 2011 Stanley Cup Win. Despite not playing in that series, the Bruins petitioned to have Savard's name engraved on the cup and was successful in doing so. Savard had a breakthrough career with the Bruins from 2006-2011 and formally announced his retirement in 2018.