Drew Pomeranz's 2016 season
On July 14th, 2016 the Red Sox acquired left-handed pitcher Drew Pomeranz in a trade with the San Diego Padres. To that point, Pomeranz was putting together a fine season. Drew went 8-7 with a 2.47 ERA in 17 starts with San Diego. He also only allowed eight home runs in those 17 starts. Personally, I thought it was a decent trade. It was exciting to see another talented pitcher join the rotation. I thought the move provided Boston with serious rotation depth as Pomeranz was joining a group that already featured quality pitchers such as eventual Cy Young winner Rick Porcello, David Price, Steven Wright and Eduardo Rodriguez.
The numbers were clearly good, but Red Sox fans were displeased with the move. Red Sox Nation was uneasy about getting rid of the highly talented pitching prospect Anderson Espinoza. This put a lot of pressure on Pomeranz and unfortunately it did not work out well. Pomeranz went just 3-5 with an ERA of 4.59 in 14 starts. His HR/9 rose from 0.7 to 1.8, not pretty. Red Sox fans became displeased with the front office for getting rid of Espinoza for a back end starter.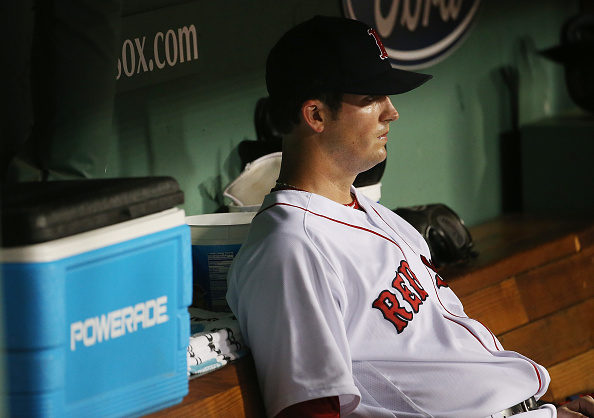 Slow start to 2017 for Drew
Sox fans entered the 2017 season indifferent about the rotation. There was plenty of confidence in newly acquired Chris Sale and Cy Young winner Rick Porcello. However, many were concerned about the rest of the rotation. Would E-Rod and Price stay healthy? Will Steven Wright's knuckleball "knuckle" this year? Will Pomeranz pitch as poorly as he did in 2016? Tremendous pressure was on Pomeranz's shoulders, he had yet to prove he could pitch in the stacked AL East. It was a rough start to the season for Pomeranz as he posted an ERA of 4.97 through his first eight starts. His poor performance made him one of the least popular players among the fans. This increased the animosity of the fans towards the management.
Big Smooth turns it around
After Drew's rough start to the season, he found his groove. Pomeranz got on a roll and ended the season with a 17-6 record and an ERA of 3.32. His monthly ERAs from June to September went like this: 3.00, 2.72, 2.28 and 3.69, very effective. He won eight starts in the second half alone while posting an ERA of 3.01. Pomeranz's performance quickly began to alter the opinions Red Sox fans had of him. He solidified himself as the second best pitcher in the rotation only behind Cy Young candidate Sale.
The key to his dominance?
Pomeranz is well known for his filthy curveball, which he throws 37% of the time. He constantly has hitters off balance as they are unsure if they will see his curve or fastball. His curveball is slow and has a deep break. Hitters often times can't wait on it, which produces an off balance, front-footed swing. When batters do manage to lay off, it is typically because they see it as a ball upon his release, but the sharp break often brings it back over the plate for a called strike. This nasty curve also makes his fastball more effective. Despite his fastball only being thrown around 91 MPH, he gets many swings and misses at it. Relative to his curveball, which is typically 79 MPH, his fastball looks very fast to batters. The 12 MPH difference between his two main pitches is a nightmare for batters. Hitters can not seem to time him properly as sitting on the fastball makes them vulnerable to the curveball and vice-versa.
What does the future hold for Pomeranz?
No one can be certain, but I personally think we will see a similarly good Pomeranz in 2018. He showed incredible consistency after his first eight starts. I do not see a logical reason why he would not be effective again in 2018. Sure, he may not be quite as good, but I anticipate his numbers will be in the same ballpark (no pun intended). As long as he brings the same curveball along with him, he should have no problem keeping hitters off balance and succeeding. Another solid season from Pomeranz will be a key factor in the rotations effectiveness.
*Follow me on twitter @MLBfromNH (Kevin Civiello)*