Boston, MA–The 2017-2018 Boston Bruins are playing impressive hockey lately, especially in the last two months. This is a feat that the NHL can no longer ignore; they are the real deal. They continue to pummel through their opponents to extend their streak to sixteen points against Montreal. Their surging success is quietly carrying over to their "freshman" team: the Providence Bruins. Currently in second place in the Atlantic division, P-Bruins are racking up impressive numbers. Case in point, Providence is 10-0-1 when rookie player Jakob Forsbacka Karlsson scores.
Next Man Up
The future of this club, or any club, relies on the young prospects that are coming up the pipes. The P-Bruins have a healthy blend of rookies and those that have already played a few games for the Bruins. Down in Providence, the key focus has always been on the development of young players, paving the way for many future superstars so that they earn that spot on the Bruins roster. Former coach of the P-Bruins, Bruce Cassidy recently stated:
"We look at the growth of our players here I think it speaks for itself, the growth of Danton and Jake down there last year I understand that JFK and Zach are playing well down there right now too".

And for some players, Providence is the place to regain confidence as they look to develop their play. Playing in the AHL is exactly what Anders Bjork needed when his game play started to suffer in the NHL. The young Michigan native had three goals and six assists while playing his first sixteen games for the Boston Bruins. Bjork was reassigned to Providence after taking a tough ice hit that sidelined him. In his first three games in the AHL he netted two goals and had two assists. Let's take a look at some of the players making noise in their rookie year.
HOT TAKES
It's all about speed and youth when it comes to competing at a high level. The truth is not every player will end up playing for the Bruins, nor will they stay in Providence. Jakob Forsbacka Karlsson, or JFK, has been making a name for himself. A former player for the BU Terriers, he made a brief debut with the Bruins against Washington last season, playing a little over eight minutes on the ice. The 24-year-old rookie has been racking up some impressive points for the P-Bruins:  25 points in 39 games.
First linesman Kenny Agostino, along with Austin Czarnik, lead the P-Bruins in points. Czarnik so far has tallied up 34 points in his last 33 games as he heads to the AHL All Star Classic. Right wing  Jordan Szwarz is equally impressive. He recorded 24 points in 24 games for the AHL and garnered 3 assists in the ten games he played for in Boston. Rookie Zach Senyshyn has amounted 17 points with 11 assists in the 38 games he has played so far.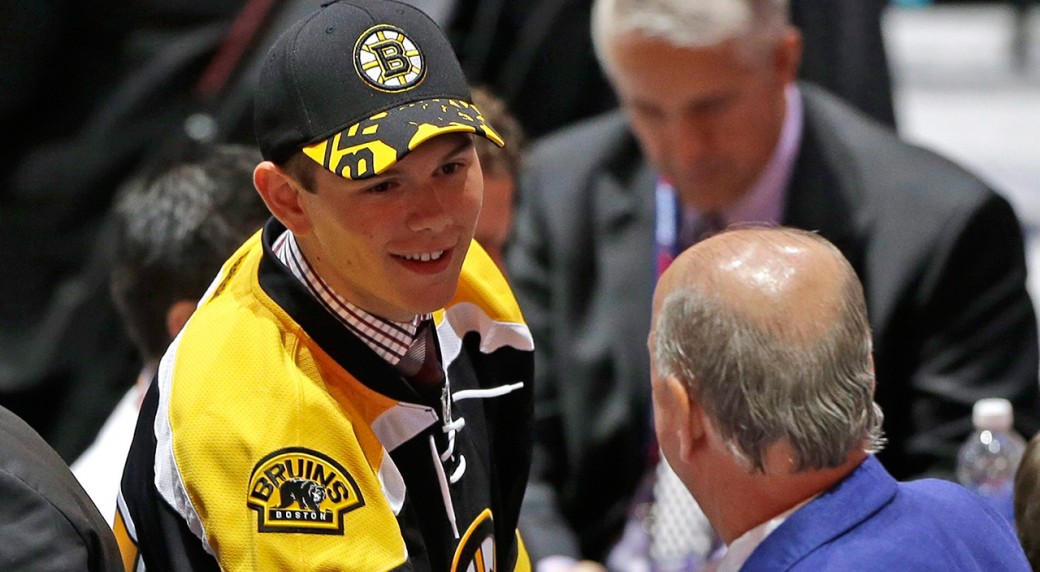 The Providence Bruins are sprinkled with young talent that have already made their first NHL appearance. Matt Grzelcyk highlights the list, earning fourteen minutes of ice time a game. There is no doubt the 23-year-old Charlestown native has been making his mark for the Bruins defensive blue line. Grzelcyk and fellow BU alum Charlie McAvoy reunited after Adam McQuaid was injured. Also like every line on the current Bruins roster, they continue to play on their toes.
PROSPECTS EVERYWHERE
As we look to Providence in developing the next wave of Bruins superstars, other upcoming prospects are showing their skills elsewhere. In his first few games playing for University of Maine,  Bruins prospect Jeremy Swayman has posted an impressive record. He is 5-0 for the University of Maine and 8-3 in the NCAA. The first year goalie also recently won a bronze medal at the World Juniors and ranks fifth in the nation in save percentage. He recently recorded his first career shutout winning 3-0 against Boston University.
19-year-old Urho Vaakanainen is another key player to keep an eye on. The Finnish defenseman is quickly progressing into a skilled player. He is playing for SaiPa in the Finnish Liiga to ready himself to debut for the Bruins next season.
FINAL THOUGHTS
This has been an impressive year for the Bruins and as one continues to watch the progression of the many young prospects this team is currently developing, a thought remains. Out of all the talented players this organization has who will be the next Bruins superstar? The future is shining bright for the black and gold.
Follow Liz Rizzo on Twitter @pastagrl88