The New England Patriots just lost Super Bowl 52, 41-33, to the Philadelphia Eagles. A mix of uncharacteristically poor coaching and terrible defense proved to be too much for quarterback Tom Brady to overcome, and the Patriots left Minnesota empty handed. The bad news is that the Patriots lost. The good news is that they'll be back soon. The New England Patriots aren't going anywhere, and should even better in 2018.
The New England Patriots Aren't Going Anywhere
Internal Stars Return
Tom Brady's Favorite Target Will Be Back in Action in 2018
Image credit: Boston Herald
The Patriots made it to the Super Bowl in spite of two of their best four players missing the season. Wide receiver Julian Edelman tore his ACL in the preseason, effectively ending his season before it began. While Edelman is 31, there's no reason to expect anything less than a full comeback.
The silver lining to tearing his ACL in the preseason is that his gives him a full calendar year to get healthy. The typical ACL recovery timeline is roughly 6-9 months, so Edelman should be a full go by the 2018 regular season. Edelman's rehab, as far as we know, is moving along without any setbacks, and he even said that he believed he could have played Super Bowl 52 were he were eligible.
The Patriots will also be getting their best defensive player back in Dont'a Hightower. Hightower played in just five games all season, with his last appearance coming in Week Seven. While linebackers like Kyle Van Noy performed admirably in his absence, there's no overstating how much Hightower means to this defense. He's the de-facto do it all linebacker, capable of rushing the passer, stopping the run, and dropping into coverage. It's no coincidence that the Patriots won the two Super Bowls he played in, but lost the one he didn't.
Role Player Reinforcements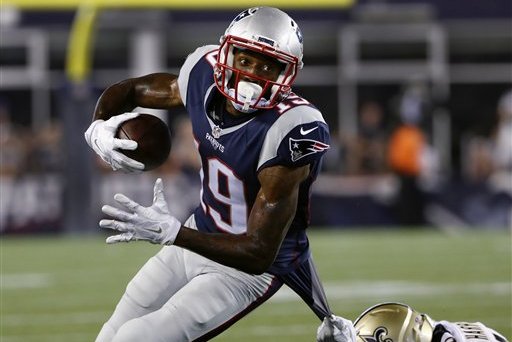 Malcolm Mitchell's Presence was greatly missed in 2017
Image credit: Bleacher Report
Additionally, the Patriots will be getting some minor reinforcements with the return of Malcolm Mitchell. Like Edelman, Mitchell missed the duration of the season. While he won't have Edelman's impact, he does offer something that none of the other receivers do. Mitchell plays bigger than his size, and is able to win tough, contested passes on the boundary. He showed he's more than capable of being a reliable intermediate option, and his presence should open up a whole new dimension to the Patriot offense.
With Edelman running his famous option routes and Mitchell a threat on intermediate passes, who covers Brandin Cooks? Cooks had a great 2017 despite being the teams best receiver, and thus facing the best opposing defenders. Teams won't be able to lock in on Cooks with a healthy Edelman, Mitchell and Rob Gronkowski on the field. Gronkowski is mulling retirement, but that felt like a reactionary statement after a long, grueling season. Until he officially says otherwise, expect him to be playing in 2018.
Additionally, the Patriots will be getting their top draft picks back for 2018. Third round rookies Derek Rivers and Antonio Garcia missed the entire 2017 season with injuries, and should be able to bring a huge boost to the 2018 roster. Rivers in particular should be a big piece in aiding a weak front four, and Garcia could earn the backup tackle role with both Cameron Fleming and LaAdrian Waddle free agents.
You can bet on if you think the Patriots will keep on winning this season and you can find the most updated NFL betting lines from BetQL.
Several Early Draft Picks
The Patriots became AFC Conference Champions with minimal help from their rookie class. The Patriots traded their first rounder in 2017 for Cooks, and only drafted four players. Of those four, only Deatrich Wise made the opening day roster.
That will not be the case this season. The Patriots will have their own first and second round picks this season, along with a high second rounder acquired from the San Francisco 49ers. While one of those picks will likely be used to draft Brady's eventual successor, the other two should be ready to contribute immediately. Having two high level rookies should be an instant help for a team that historically does well in the draft. Even if Belichick trades one of those early picks, the longtime coach has a knack for finding stars in the mid to late rounds.
Tom Brady Is Still Here
This is really all that matters. As long as Brady looks like Brady, the Patriots will continue to win. Brady is getting older, but there's no reason to think he'll be dropping off anytime soon. In his age 40 season, Brady led the league in passing yards en route to winning MVP honors. And while he didn't win the Super Bowl, he was the only reason it wasn't a blowout. Brady threw for 505 yards and three touchdowns, setting several passing records along the way.
This team will still be good even assuming the worst case scenarios. If Gronkowski does retire and the 2018 draft is a bust – both of which are unlikely events – the Patriots should still win the AFC East pretty handily. Brady's done far more with less than whatever the 2018 iteration of the team will be, and he will continue to do so.
The Patriots may be down, but they don't stay out. They're the best run organization in sports, led by the best quarterback in history and one of the best coaches. They won't lose focus, and next year at this time they'll be in the thick of yet another title chase.
Cover image courtesy of NJ.com