Playoff Race Heats Up
Well, it's Week 15 and nearly every game carries playoff implications. In fact, every game aside from the one that already occurred (Denver at Indy) carries playoff implications. Some teams are fighting for the division title, while others desperately try to claw their way into wild card contention. Only two divisions have been clinched thus far as the two teams representing Pennsylvania have clinched their respective divisions. In the rather weak AFC, it seems as though almost every team still has a shot to get it. The Jags and Titans are still battling for the AFC South crown. The AFC West is as hectic as you will ever see. The Chiefs, Chargers and Raiders are all within a game of each other. With a lack of quality teams in the AFC, it appears nine wins will be enough to earn a playoff spot.
Over in the far more competitive NFC, nine wins ain't going to cut it. I'm not even sure if 10 wins will be enough. The NFC currently contains ten teams with a winning record. Tight battles are still being fought for the NFC West crown as well as the NFC South. Football fans have the luxury of witnessing the Rams roll into Seattle this Sunday. LA will certainly be seeking revenge on their rival as they lost 16-10 at home vs Seattle in Week 5. Also, the three team race for the NFC South ensues as the Falcons, Saints and Panthers are all separated by just one game.
So, which teams face an absolute must win scenario if they wish to keep their playoff hopes alive?
Detroit Lions vs Chicago
The Lions continue to fly under the radar in the NFC. Detroit lurks in the shadows of the NFC bullies such as the Eagles, Saints, Rams and Vikings. However, the fact of the matter is that Detroit (7-6) still has a shot at making the playoffs. Their final lunge into the playoffs will start this week with a very winnable home game against the Bears. Their luck will continue into Week 16 as they will travel to Cincinnati to face a team that will only be playing for pride. Unfortunately, their luck will end there because healthy Aaron Rodgers and the Packers will roll into town, also fighting for a playoff spot. Lions fans: when Week 17 arrives, it's best you wish for two things:
1. Aaron Rodgers is still a little rusty
2. Stafford will have one final fourth quarter game-winning drives left in the tank.
Green Bay Packers at Carolina
Very tough test here for the Pack. Luckily they have their superstar QB returning this week. Unfortunately, they have to travel to Carolina to face a team that has won five of its last six games. Carolina has been scoring in bunches over their past four games, averaging 33 points during that span. Hopefully for Packers fans, Rodgers will be fully healthy, any signs of rustiness could be the difference this week. Also, much unlike the aforementioned Detroit Lions, the Packers have a harsh schedule to close out the season. After Carolina will be Minnesota at home and then of course at Detroit. Green Bay will need Aaron Rodgers to be Aaron Rodgers if they want to participate in the playoffs this season.
Dallas Cowboys at Oakland
Both teams are featured in bold in the headline because they both MUST win this game to keep playoff hopes alive. It will be a tall task for either team to make the playoffs as they both have tough remaining schedules. Oakland of course starts with Dallas at home then travels to Philadelphia and then to LA to face the Chargers. The Eagles sans Wentz are certainly less intimidating but still a force to be reckoned with. The road tilt in LA will not be any easier as the Chargers are playing as well as almost anyone in the AFC. It will be tough, but if Oakland manages to win out, then they will have a great shot at getting into the playoffs.
It will not be any easier for the Cowboys. Starting with the match up of iconic franchises in Oakland. Dallas will attempt to get by one final time without their superstar running back. If they manage to win in Oakland and get Ezekiel Elliott back for the Seahawks and Eagles then they certainly have a chance. However, never mind Seattle and Philadelphia for now because it is "win or out" for Dallas as they will need 10 wins to make the playoffs.
Miami Dolphins at Buffalo
Well it certainly seems as though the 'Fins season was over long ago after suffering some embarrassing losses this year. However, their embarrassing losses seem to be cancelled out by impressive wins, most notably their Week 14 win. Miami pulled off what was potentially the upset of the year as they handed New England a 27-20 loss. It is quite remarkable that Miami ranks 27th in the NFL in point differential at -82 but they are still fighting for a playoff spot. It will be a very tough road for Miami as they are at Buffalo, at Kansas City and then back home against Buffalo to wrap up the season. Miami will need to win all three of their remaining games if they wish to be playing in mid-January. Unfortunately, KC and Buffalo are both fighting for a playoff spot as well so Miami will have to be at their very best.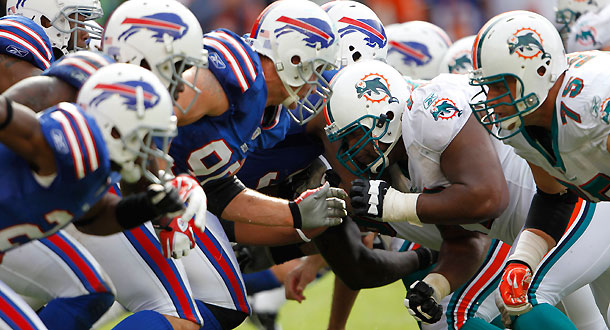 *Follow me on twitter @MLBfromNH (Kevin Civiello)*