Week 8 has arrived, and that means we are just about half way through the NFL's regular season. It should be quite an eventful weekend, despite six teams being on bye. Week 8 features nine games between teams with at least three wins each and three divisional match-ups. I've highlighted some of the match-ups to keep an eye on. I've also called out which teams face a "must-win" scenario and score predictions.
Week 8 Key Match-ups
Denver Broncos (3-3) @ Kansas City Chiefs (5-2)
Football fans have had this game circled on their schedule since the 2018 schedule was released. This match up features the top two teams in the stacked AFC West division. Both teams come off of back-to-back losses after strong starts to the season. For the Broncos it's far uglier. They have choked in two winnable games vs the NYG and @ LAC. The offense looks terrible during this mini skid, notching just 10 total points in the past two contests. Denver's defensive unit has not been its usual dominant self over the past two games, allowing 44 points during the span. It is not yet panic time for the Broncos, but they need to improve soon if they want to make the playoffs. The Chiefs have also dropped two straight, but they were both tough games. The first was a one-possession loss vs the 5-2 Steelers. The second, a tough loss in Oakland on the last play of the game versus a team that was desperate for a win (and played like it). The Chiefs do not have much to worry about at the moment, but a win could really help separate them from the rest of the division.
Dallas Cowboys (3-3) @ Washington Redskins (3-3)
Another enticing match up here between two divisional foes. Both teams sit at 3-3 and are tied for second in the division behind the high-flying Eagles. Dallas is coming off a huge 40-10 win in which they looked like a force to be reckoned with. Then again, it was against the win-less 49ers. Washington has played quite well this year despite just a 3-3 record. They have had an extremely tough schedule as their losses have come on the road against the Chiefs and twice against the 6-1 Eagles. They have won some quality games this year vs OAK and @ LAR. Expect a high-scoring affair as Dallas is currently ranked 7th in the league in points per game while the Redskins are 11th.  Buckle up.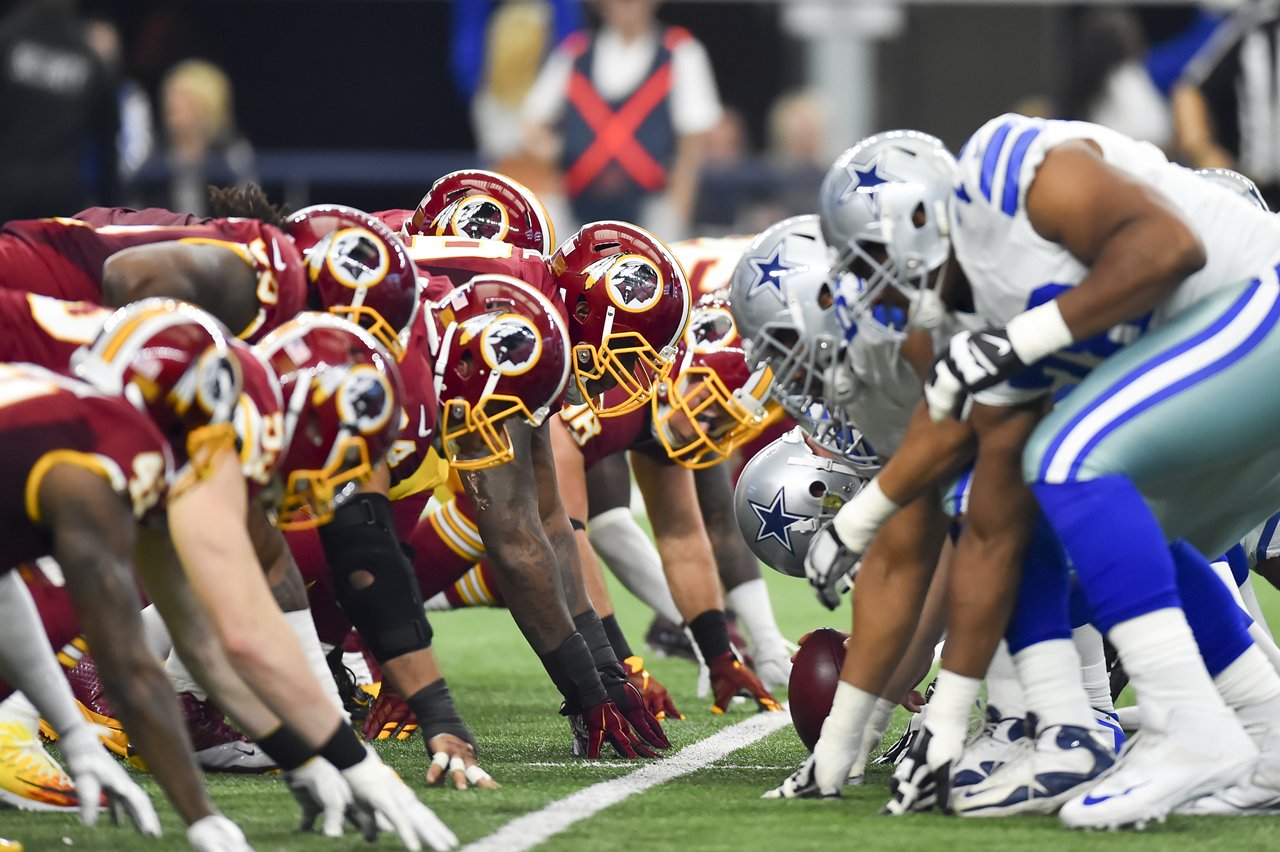 Houston Texans (3-3) @ Seattle Seahawks (4-2)
Interesting match up here. Houston rolls into Seattle off their bye week. The Texans will attempt to keep their third-ranked high-powered offense going against Seattle's number one ranked defense. The Texans look a little bit like the Seahawks did a few years back. They feature an elite defense and an offense lead by a young, mobile quarterback. The difference is that Houston is on the rise while the Seahawks have been flying high for years now. This would be a statement win for Houston, though it will be tough without their superstar defensive end JJ Watt, out for the season.
Teams in "Must Win" mode
It may be a little early to start claiming games to fall under the  "must win" category. However, it certainly feels as though a few teams can not afford a loss this week if they want to be in the playoff race or at least meet their pre-season expectations.
Baltimore Ravens (vs Miami)
The Ravens currently sit at 3-4. Luckily they are second in the division but at 5-2 Pittsburgh is beginning to pull away. Their 3-4 record is a result of poor performance by QB Joe Flacco and a defense not playing to its potential. The Ravens limp into a week 8 match up at home vs the Dolphins. Backup QB Matt Moore will be starting for Miami, replacing Jay Cutler. If Baltimore can not win at home versus a mediocre team that is starting their back up QB then they do not deserve to be in the playoff hunt.
Cincinnati Bengals (vs Indianapolis)
Luckily for Cinci, their "must-win" game is against a terrible Colts team. Cinci is just 2-4, but I believe they are better than their record shows. They have talent on both sides of the ball but have not executed well this year. Dalton needs to play better and they need to establish a run game. This game should be a "gimme" and the Bengals need it as they continue to fall out of the playoff race rapidly. With Pittsburgh at 5-2, it is unlikely that they will have a shot at the division title, but a wildcard spot is not out of the question yet.
Tampa Bay Buccaneers (vs Carolina)
After just barely missing the playoffs and looking good for most of last season, the Bucs are just 2-4. It has certainly been a disappointing start to the season. Tampa really needs a win this week to stay competitive. It will be a tough game, but at home vs an inconsistent team that just lost to the Bears, it is a winnable game. The fact that it is a divisional game adds even more magnitude to this match up. The NFC South division is no joke as it feature the previous two NFC champions and a 4-2 Saints team. If the Bucs want to climb out of the NFC South basement, they will need a win this week against the Panthers.
Score Predictions
Miami – 16                Oakland – 24             LA Chargers – 23            Atlanta – 23                  Carolina – 20             Dallas – 27                     Denver – 13
Baltimore – 20           Buffalo – 23               New England – 34          NY Jets – 20                 Tampa Bay – 27        Washington – 31           Kansas City – 27
---
Minnesota – 26         Indianapolis – 13       Chicago – 17                  San Francisco – 14        Houston – 20            Pittsburgh – 24
Cleveland – 10          Cincinati – 24            New Orleans – 31           Philadelphia – 38           Seattle – 26                Detroit – 30
---