The New England Patriots entered the offseason with a desperate need for an edge defender. The 2017 Patriots struggled to stop outside runs and lacked consistency getting to the quarterback. Two days into free agency, the Patriots addressed that problem with the signing of former Altanta Falcons defensive end Adrian Clayborn. But what are realistic expectations for Adrian Clayborn as a Patriot?
Setting Realistic Expectations for Adrian Clayborn
Clayborn Rushing the Passer
Clayborn's six-sack game against the Dallas Cowboys won't be the norm
Image credit: SI.com
Clayborn finished his 2017 season with 9.5 sacks, but that number is a little deceiving. Six of his nine and a half sacks came in one game, against Dallas Cowboys backup left tackle Chaz Green. Take out that game, and he only had 3.5 sacks in 15 games.
This isn't meant to take any credit away from Clayborn – six sacks in a game is an incredible feat – it's merely to point out he's not an elite pass rusher. Anyone expecting the second coming of Richard Seymour is asking for disappointment.
While Clayborn isn't a Hall of Famer, he's still a huge upgrade as a pass rusher. He's never had a double-digit sack season. However, he consistently gets to the passer. He's capable of lining up all over the Patriots defensive line, although he's best when lining up wide off the edge.
While he doesn't always bring down the quarterback, he's phenomenal at generating pressure. Per Pro Football Focus, Clayborn pressured the quarterback on 54 snaps, despite having just 9.5 sacks. If Clayborn can continue to bring pressure and move the quarterback off the spot, then the rest of the defense can finish the job.
Ultimately, Clayborn won't fix the pass rush all by himself. However, pairing him with fellow defensive end Trey Flowers should give the Patriots one of the better pass rushing duos in the league. Factor in edge rushers Deatrich Wise Jr. and Derek Rivers coming off the bench, and suddenly the Patriots have one of the deeper groups of pass rushers in the league.
Clayborn Against the Run
While Clayborn is an above average pass rusher, he's not quite as good against the run. Per Pro Football Focus, Clayborn finished his season with 18 run stops overall. While that's not an elite number, it's fine for a player whose game is primarily rushing the passer.
However, he doesn't need to be an elite run defender to be an upgrade. The 2017 Patriots edge defenders couldn't set the edge to save their lives. Cassius Marsh was a failed experiment, while younger players like Wise and Adam Butler just didn't have enough experience to play the run and the pass. Outside of Flowers, the only player capable of setting the edge all last season was former Pittsburgh Steeler James Harrison.
Clayborn is an upgrade on all of the non-Flowers defenders in the run game. While it's not his speciality, he's still capable of setting the edge, eating up a blocker, and allowing linebackers Dont'a Hightower and Kyle Van Noy to finish the play.
How Adrian Clayborn Fits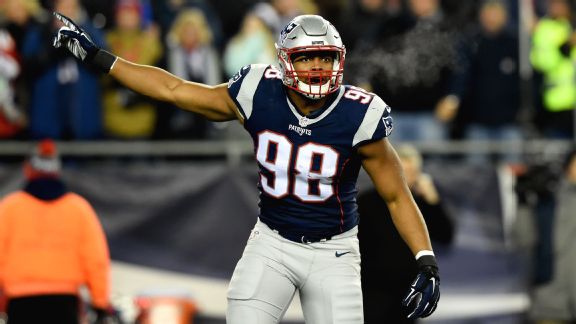 Trey Flowers will be happy to have Clayborn in town
Image credit: ESPN
Essentially, New England is getting a lesser version of Chandler Jones. While Clayborn isn't the same pass rushing threat that Jones is, he's capable of generating pressure on a snap to snap basis and getting to the quarterback. Like Jones, Clayborn is an adequate, if unspectacular, run defender. He's not a liability, but it's certainly not his strength.
Ultimately, the Patriots got the ideal #2 edge defender on a good deal. Clayborn should be a perfect complement to Flowers, and Flowers will have a genuine pass rushing threat alongside him.
Clayborn, Flowers, Wise, Butler, and Rivers should combine to be a ferocious pass rushing unit on passing downs. The base defense of Clayborn, Malcolm Brown, Danny Shelton, and Flowers won't be one of the elite run stopping units in the league, but they'll certainly be capable of holding their own against opposing offensive lines.
Clayborn came over on a two-year, $12 million dollar deal and he already looks like a bargain. He fits an immediate need on the Patriots defensive line and should be a Week One starter. While this free agency has been turbulent for Patriots fans, this is one move that absolutely goes New England's way.
Cover Image Credit: USA Today