We have reached week two of the preseason. In last week's preseason matchup against the Jacksonville Jaguars, there were a couple of rookies putting on a clinic. Both Austin Carr and Jacob Hollister made big plays, therefore making their case that they deserve a roster spot.
This week the Patriots are taking on the Houston Texans. Once again players on the bubble have a shot to prove their value. With Bill Belichick's "Next Man Up" mentality there is always an opportunity on this team. It is also a safe bet that we'll see more of the starters this week.
That being said, here are five players to watch closely in the Patriots second preseason game:
1.) RB Rex Burkhead
Last week Dion Lewis got a bulk of the carries. According to NESN's Doug Kyed tomorrow nights workload should belong to Rex Burkhead, who is expected to make his Patriots debut.
Rex Burkhead was involved heavily with seven catches, one drop. Hawkins, Allen, Edelman, DeAndrew also had drops.

— Doug Kyed (@DougKyed) June 7, 2017
Burkhead was brought in during the offseason for his versatility. Belichick loves players that can contribute in multiple ways. He is a key special teams contributor and has even split out wide.  Also with Gillislee still out, he has received a majority of running back reps on handoffs with the first-team offense. Look for him to make some plays against that Texans defense.
2.) DE Kony Ealy
Kony Ealy will look to bounce back after a disappointing preseason debut. Ealy did suffer a shoulder injury this week, but returned to the practice field and appears to be okay. With the recent head injuries to rookie defensive ends Deatrich Wise and a knee injury to Derek Rivers (who is now out for the season,) Ealy will receive more opportunities to see the field.
According to CSNNE's Mike Giardi, Ealy is coming around.
From what i could tell, Kony Ealy had his best day of practice. Worked with the 1s (no Wise) and showed some

— Michael Giardi (@MikeGiardi) August 15, 2017
Ealy is a former second-round pick and has all the talent in the world to succeed at this level. The time is now for Ealy and he's expected to see plenty of snaps on Saturday night.
3.) CB Cyrus Jones
Cyrus Jones played about as bad as it gets in last weeks preseason opener. After getting burned for a 97-yard touchdown fans are ready to give up.
Poor Cyrus Jones. Alone on an island, he just got torched for a 97 yards and a touchdown Keelan Cole.

— Mike Petraglia (@Trags) August 11, 2017
But allow me to remind you how bad Marcus Cannon once looked. Before he turned his career around he was thought to be a bust. Cannon has since then turned himself into one of the Patriots best offensive lineman. Cyrus Jones looks to take a page from Cannon's book. He's still a very young player in only his second season. Jones has to bounce back. This is a very important game for Jones and his tenure with the Patriots with so many people calling for Belichick to cut the young cornerback. It's becoming must watch because he's either going to muff a punt, give up a huge play, or finally bust open a big return.
4.) QB Jimmy Garoppolo
So looking at Garoppolo's stat line, you'd say he played pretty well last week. He finished 22-of-28 for 235 yards, with two touchdowns, and no interceptions. However in the words of Bill Belichick, "stats are for losers."
Some people, such as WEEI's Ryan Hannable got a little giddy.
Jimmy Garoppolo last two drives: 10-for-10, 122 yards, 2 TD.

— Ryan Hannable (@RyanHannable) August 11, 2017
But was he really that impressive? Garoppolo started out slow and struggled against the Jaguars starters on defense. It wasn't until after the first quarter and well into the game that Garoppolo finally got into a groove. Garoppolo missed multiple routine throws. It also shouldn't go unnoticed that he didn't play well until he was throwing against Jacksonville's second and third-string secondary.
Here's a prime example: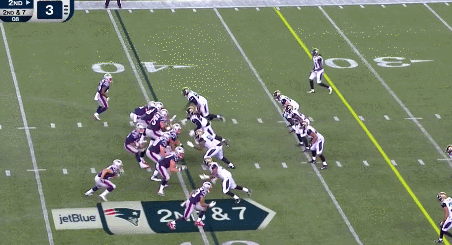 We'll see if Belichick decides to give Tom Brady the start. If I was a betting man, my money would be on Brady sitting out this game because of the injury risk against that tough Texans defense. However, according to Jeff Howe of the Boston Herald, the plan all week has been for all of the starters to play.
As for Garoppolo, look for him to build off last weeks performance. He has certainly shown flashes, but he needs to show some consistency.
5.) LB David Harris
Harris may very well be the Brandin Cooks acquisition of the defense. With all of these injuries piling up, Harris is a compelling piece to the Patriots defense. He gives them a solid linebacker behind Hightower with experience and toughness.  The only question now is whether or not Harris can still move. He was a tackling machine his entire career, but is he savvy enough not to get burned in coverage? I'm looking for the Patriots to give him plenty of snaps in these next couple of games to see if he's picking up their system.