It's only spring training, but the Boston Red Sox starting rotation has already has its injury woes. Last week, manager Alex Cora announced that both Eduardo Rodriguez and Steven Wright were not likely to be ready for Opening Day. To make matters worse, Drew Pomeranz recently left his first spring training appearance with forearm tightness. Pomeranz says he's fine, but what if another starting pitcher gets hurt? Do the Red Sox have the depth to handle such an injury?
What If Another Starting Pitcher Gets Hurt?
This article may read like an overreaction, simply because Pomeranz said he's fine. There's no reason to doubt him, so right now he probably is. However, Pomeranz has a history of arm injuries and fatigue, so it's still worth looking at what the Sox would do without him. Right off the bat, it seems like the Sox have two main options: stay the course or sign a free agent.
Option One: Stay the Course
As things currently stand, the Red Sox will need one of Brian Johnson, Hector Velasquez, or Roenis Elias to take the fifth spot in the rotation. Each one has their pros and cons, but the Red Sox can likely survive in spite of the spot starter.
If the Red Sox need two spot starters, this task becomes considerably harder. Pomeranz isn't a Cy Young caliber pitcher, but he's leaps and bounds better than Johnson, Velasquez, or Elias. More pressure would fall on the offense, as they'd probably have to bail out the pitching to an extent two out of every five games.
Johnson and Velasquez both have proven that they can keep the Red Sox in games, so having both in the rotation wouldn't be the worst thing in the world. However, relying on two minor league caliber pitchers isn't ideal, and the Red Sox will likely check out the open market.
Option Two: Sign a Free Agent
Jake Arrieta is a free agent, but probably won't be a Red Sox
Image credit: NBC Sports
The Red Sox organization is very adamant about staying under the luxury tax, which means Jake Arrieta will not be a member of the team. Boston has roughly $8 million dollars to spend before hitting the luxury tax threshold, and Arrieta won't sign for that.
Alex Cobb and Lance Lynn are the only other solid starters left on the market, but both would likely force the Red Sox to exceed the luxury tax. If they do that, they'll drop ten spots in the upcoming MLB draft. Additionally, both players have received qualifying offers, which means signing one of those two would make the Sox forfeit their third highest draft pick.
Depending on how desperate the Red Sox are, they might bite the bullet and sign one of those three regardless. However, if the Red Sox truly want to stay under the luxury tax, they'd have to get creative.
Getting Creative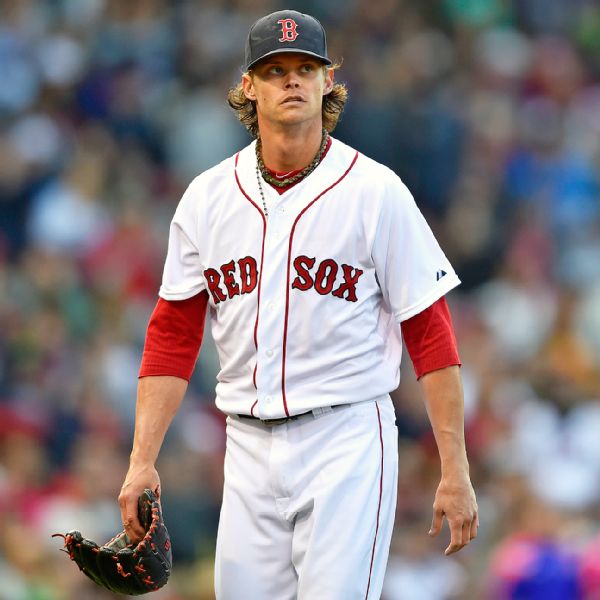 Clay Buchholz would be the return nobody asked for
Image credit: ESPN
The Red Sox could look into acquiring former Sox John Lackey and Clay Buchholz, but both guys have their limits. Lackey is 39 and coming off one of the worst seasons of his career. He's openly debated retirement before, and might not have anything left in the tank. As for Buchholz, the Red Sox should avoid him at all costs. Red Sox Nation was on that roller coaster for the better part of a decade, there's no need to get on that ride again.
Kyle Kendrick is also an option, albeit a very low upside one. The Red Sox thought enough of him to bring him in last year, but he woefully underperformed. In a year where the Red Sox constantly needed a spot starter, Kendrick was unable to step up. He fell behind Johnson and Velasquez on the depth chart, but he does have a record of major league success. If the Red Sox believe last year was a fluke, then perhaps they'll bring him back.
There aren't many good options outside the organization, but one player they could check out is Brett Anderson. Anderson once had a very promising career, and was actually traded to the Colorado Rockies for Pomeranz back in 2013. He had success with the Oakland Athletics and the Los Angeles Dodgers, but injuries have limited him. He's only pitched 66.2 innings since 2015, and he hasn't looked that great in any of them. Still, the Sox could kick the tires to see if there's any magic left in the 30-year old.
Which Option Is Best?
Truthfully, the best option is to stay the course. Getting creative is asking for trouble, as all of those options are high risk. The need for starting pitching depth isn't large enough to justify the cost of Arrieta, Cobb, or Lynn. Having two spot starters in the rotation isn't ideal, but this Red Sox team is built well enough to survive. As long as the starter can keep the game competitive for the first five innings, the rest of the unit should be able to pick up the slack.
Cover Image: SI.com