Laying the Foundation
After a wild 2017 off-season for the Boston Celtics, one key player remains from the 2016 club. That player is Al Horford, and he is entering his second year with the 17 time NBA Champions.
Celtics General Manager Danny Ainge made various offseason moves after a 2016-2017 Eastern Conference Finals exit. One signing that goes under-the-radar is that of Center Aron Baynes.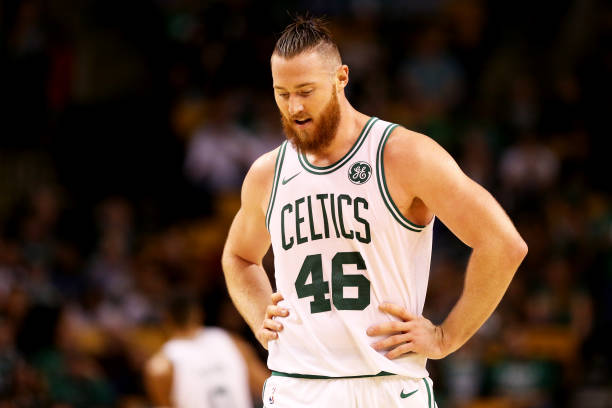 The 6'10" Australian-born Baynes is entering his sixth NBA season and will be given a bigger role this year. A possible starting front court of Horford at power forward and Baynes at center seems ideal for both players.  Horford would play at his natural position and focus on his offensive strengths (moving the ball, spreading the floor). Baynes would be the physical bruiser the Celtics have lacked who can primarily grab boards and defend the paint.  This front court would be comparable to the 2007-2008 Celtics duo of Kevin Garnett and Kendrick Perkins. This pair was important to the team 10 years ago, and could be the blueprint for this upcoming season.
Horford to Garnett Comparison: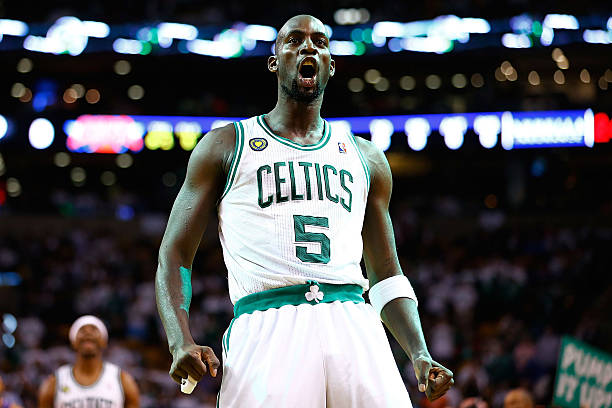 Before you freak out, I am not saying that Horford is on the same level as "The Big Ticket."
Garnett was the 2004 NBA MVP with the Minnesota Timberwolves and 2008 NBA Defensive Player of the Year for Boston. Horford has never acquired either of these accolades and likely never will, but that is fine.  KG was a post-up nightmare for opposing defenses who also had solid rim protection skills. During the '07-'08 season, he averaged 18.8 points per game and 1.2 blocks per game.
Horford averaged 14.0 points and 1.3 blocks for the Celtics in 2016-2017. A key advantage he holds over Garnett is elite passing ability (5.0 assists per game last season). He also has the ability to stretch the floor with a consistent three point shot (.355% last season).  With the addition of Aron Baynes, Horford will likely get to move back to his natural position. This will allow him to put more focus on his offensive game.
KG was at his best when playing power forward for the Celtics. Upon the departure of Perkins after the 2010-2011 season, Garnett was forced to play center. He saw many of his averages drop, including points, rebounds and blocks per game.
Do not expect Horford to emerge as the next "Big Ticket" for the Boston Celtics in 2017-2018. Instead, while playing at his natural position alongside a true center in Baynes, expect his offensive production to increase.
Baynes to Perkins Comparison
Aron Baynes was not a name that stuck out to most people during the 2017 "Summer of Ainge." Kendrick Perkins was not a name that stuck out to most people during the "Big 3 Era" of the Celtics.   Baynes does not hold the same value as the additions of Kyrie Irving and Gordon Hayward. Instead, he has the chance to be a key role players for a championship contender.  The Aussie has been making a case for himself to be a starter during the pre-season. He can provide a "space and pace" offense at Center for the Celtics with a surprising mid-range jumper.
"Aron Baynes really encouraging. Can move laterally, great defensively, offense has been better than we thought." said Coach Stevens about the Aussie thus far in the pre-season.
Those are words that could never have been said about Perkins. He played his role on the 07-08 Celtics team as an interior defender and glass cleaner. Perk could not shoot effectively outside of the paint (10-31 from shots 10 feet outside paint to three point range).
Importance of Role Players
None of Perkins career stats will amaze you, but his presence in the lineup was valuable. Boston was missing Perk during the 2010-2011 NBA Finals Game 7 against the Los Angeles Lakers.   Perkins was lost to a torn ACL in Game 6 and veteran Rasheed Wallace had to start in his place (Wallace got exposed, Lakers won the championship, Celtics fans were left disappointed).
Players like Aron Baynes or Kendrick Perkins are important to championship-caliber teams. They assume the primary duties of rebounding and rim protector, allowing others to provide the offense.   Baynes will need to take the leap in terms of improving his rebounds and blocks per game (4.1 and .4 respectively through 14.1 minutes per game during his career). If he does, fans will begin to love the addition of #46 for the Celtics in 2017-2018.
Horford-Baynes, Garnett-Perkins Final Thoughts
Boston's front court for the 2017-2018 campaign looks very comparable to that of the 2007-2008 championship team.   Horford and Baynes will be playing alongside All-Star talents in Kyrie Irving and Gordon Hayward. This will allow them to be key contributors by playing to their strengths.  Garnett will go down as one of the Celtics biggest acquisitions in franchise history and it paid immediate dividends. The team captured Banner 17 during his first season with the team.
Perkins was a valuable role player for the Celtics when they last were competing for championships. This was because he allowed Garnett to play his natural position.  Baynes could have the same effect in the starting lineup this season. Starting the other new-comer Marcus Morris would force Horford to play Center. The Celtics would have to take that into consideration if they decide not to start the Aussie.
Boston has a similar front court situation to the 2008 Championship roster. Playing alongside the additions of various new talents provides the ability to compete for Banner 18.